What Exactly is a Carbon Footprint Anyway?
---
If you've been following The Journey, you know that each person, business or group has regular activities that emit carbon dioxide and other compounds due to the combustion of fossil fuels. These compounds build up in the atmosphere, leading to climate change and other impacts on the world around us.
---
Carbon Footprint is a neat term to describe our total impact on climate change. Carbon is shorthand for CO2, which is the main greenhouse gas. And there are other greenhouse gases, such as methane. A carbon footprint can be applied to products, services, almost everything of what we do in our daily lives can contribute to our carbon footprint. The Nature Conservancy states that in the United States, the average carbon footprint for one person per year is about 16 tons, one of the highest rates in the world. Globally, the average is closer to 4 tons. To have the best chance of avoiding a 2℃ rise in global temperatures (as outlined in the Paris Climate Agreement), the average global carbon footprint per year needs to drop under 2 tons per person/year by 2050.
How can you calculate your own carbon footprint?
The Environmental Protection Agency provides a carbon footprint calculator to make things easier to understand. To start, provide your home zip code and family size. Then by providing your average monthly bills based on your home's use of natural gas, electricity, fuel oil and propane, you can get an idea of your household's annual CO2 usage.
But then what?
Based on your home's monthly use, you can receive suggestions on how to reduce it. For example, by increasing your home's thermostat just 3 degrees in the summer, your actions will lead to emitting approximately 467 lbs. less CO2 and save you the equivalent of $45 annually on your electricity bill. Other helpful suggestions include washing clothes in cold water (approximately 61 lbs. less CO2 annually), purchasing ENERGY STAR® appliances (an efficient refrigerator, for example, can save up to 394 million lbs. of CO2 per year), and replacing lightbulbs with ENERGY STAR® lights (an annual savings of 40 lbs. of CO2 per bulb).
How does it all add up? At carbonfund.org, you can make a tax-deductible donation to offset your carbon emissions and support carbon reduction projects. For example, donating $240 makes up for the annual offset of an individual (52,920 lbs. of CO2). An individual lifetime offset (26 metric tons of CO2) would set you back just over $16,000.
Food for thought
When calculating your footprint, energy use isn't the only thing to take into consideration. In terms of what you eat – everything it takes to get your food from the farm to your plate (even those processes you cannot see) is a part of your carbon footprint, or "foodprint," if you will.
Industrial food production — including animal products like beef, pork, chicken and eggs and also crops — takes a tremendous toll on our soil, air and water, as well as on the workers and the surrounding communities. A quick calculator courtesy of BBC News can determine your food-related CO2 emissions, based on a few questions.
For example, a person who reduces their beef consumption from 3-5 times a week to 1-2 times a week, can expect the following reduction in emissions: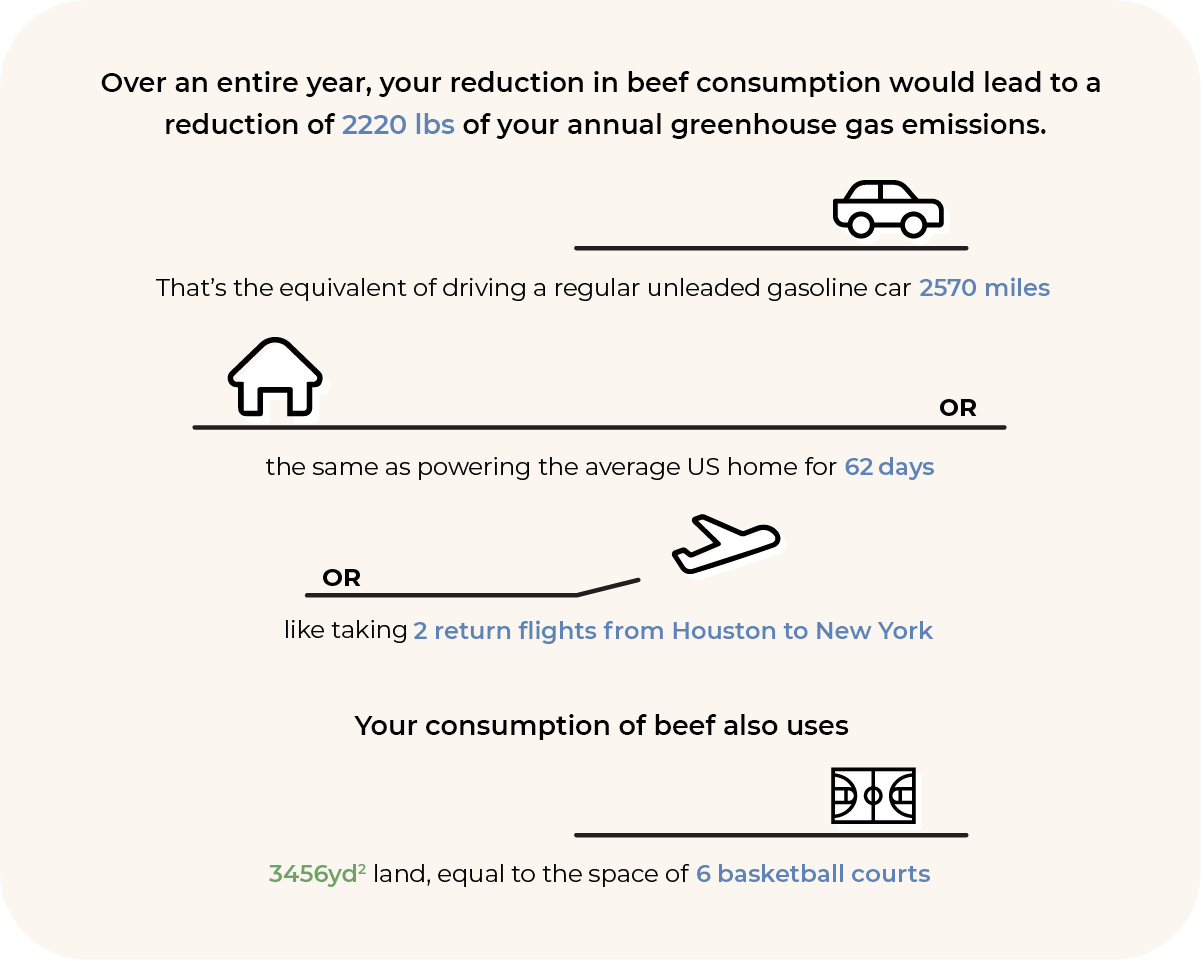 Shopping sustainably can also make a huge impact. Whether you're buying fruits and vegetables at the farmers' market or meat and fish at the grocery store, there are questions you can ask to learn more about how that food was grown or raised to make the most sustainable choice possible. By asking if the farm is organic, whether or not the animals have outdoor time and which pest controls are used, you can become a more informed customer and reduce your foodprint as such.
At EC30 we're taking steps to reduce our carbon footprint and forge the journey to carbon neutral – and you can, too.